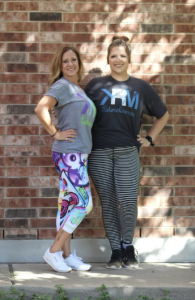 I had no idea who Jennifer was or what KRM was about when I first started – I just knew I needed help, I needed what she had to offer.
When a friend recommended KRM, I giggled at the fact Jennifer's last name was Trainor – I remember thinking to myself "personal training with Trainor? Guaranteed success because it is obviously fate." Turns out, it was. So I jumped in, head-first and refused to look back.
But in case you aren't as crazy as I am, here is the first (of many) Q&A with Jennifer. Once you know her, you'll love her – that's just how it is. Cheers to getting to know her!
Where did you go to School?
I started my schooling at The University of Texas Arlington and finished my bachelor's degree at The University of Texas of The Permian Basin.
What is Your Degree in? And how did you choose this?

Kinesiology- I was determined to get a degree. I literally asked myself "what do you love to do most? What interests you and if you had a career that you want to do forever and always be happy doing, what would it be?"
Kinesiology was that for me. I never wavered, I truly loved every minute.
What was your personal training certification process like?
HARD! *laughing* I waited a long time to get my certification. There are many trainers that get their certification with no schooling, but I wanted to be able to provide the best for my clients. I felt being a Certified Personal Trainer would help with that. Even with my bachelor's degree though, the certification process was a lot of studying, long hours, and hard work.
However, I do feel like having both my degree AND my certification gives me a huge advantage. I have a strong foundation of science which helps me understand why we do certain things and how that applies to human movement, exercise, and weight loss. Pairing years of experience with a deep level of knowledge helps me to support and train my clients in the best way possible.
What is your favorite thing about being a trainer?
I love helping people realize their potential. The complexity of the human body and understanding how it works has always fascinated me. I don't think some people realize the power of their mind and what a strong body can accomplish. There's no better feeling than hearing my clients say "I've never been able to do that before." I love when clients reach their goals and see their transformation not just physically but mentally as well.

Well, don't you just love her already? Jen has been the best part of my health journey, and I am so glad I stumbled upon KRM. The more time I spend with her, the more grateful I am – she truly has a heart of gold and is the most supportive friend ever.
Stay tuned, we have more interviews with Jen in the future. What would you like to ask her? What do you want to know? In the meantime….
You've got this,
Mikayla