MANDY:
Joining KRM and working out with Jennifer has been such an incredible experience for me. I cannot recommend her enough! She is encouraging, incredibly understanding when life gets in the way, and super fun to work with! When you join KRM you get so much more than just a great trainer, you become part of a community made up of strong fabulous women who all want you to succeed.
TONYA:
I've been with KRM from the very start. Not only is Jennifer my dearest life-long friend, she has also been my fitness coach. She has been in my corner this entire journey towards a healthy life. My next chapter… I have recently started training with Marissa. I have grown so much emotionally, physically, and mentally in these 5 short months. She listens, she adjusts, and she NEVER gives up on me even when I think I can't. I love this journey, called life, and I am so thankful to be on that calendar every week!
DEBBIE:
I'm 64 and a public school teacher – a job that has it's own set of challenges, especially physical. Thanks to Jen, I'm in better shape than most of my students! I even take our exercises into the classroom with my students – they have a hard time doing the exercises (even without weights), but they still love the challenge!!!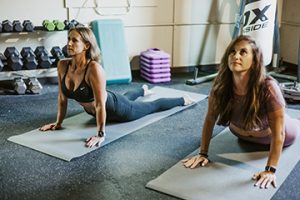 Jen is so accommodating and works around my busy schedule, which means she wakes up early to train with me at 5:00 am!! I am extremely fortunate that my youngest daughter, Mandy, insisted I train with Jen!! You never regret a workout," is so true. I may dread it at first, but I feel so good after it!!! Thank you Jen for all you do for me!!!!
NAOMI:
I was nervous and unsure of myself when I first started working out, but Jennifer & Marissa have been so great to work with on my journey! I never thought I would be laughing while working out – but it tends to happen more than not. KRM isn't just another gym, it's a community of amazing women who support and cheer each other on!
KATHLEEN:
Jennifer has literally been a lifesaver for me. When I came to her 4 1/2 years ago I was morbidly obese, borderline diabetic, and depressed. I was tired of being tired, tired of being overweight, and tired of not being able to do things. With her help I had lost 75 pounds in about 18 months before my surgery. Now, I am no longer borderline diabetic and I am stronger than I have ever been. And strong feels so good.
One thing about Jen is she doesn't let you give up on yourself. She is encouraging and motivating and wants you to succeed. I'm not where I want to be yet, but I know I will get there with her help. Not only has she helped me physically, but she has also helped me with my confidence. And she has become one of my best friends in the process.
GAYATHRI:
I started training with KRM about four months ago and I'm hooked! I was really needing motivation and encouragement to get me feeling good again and I found a loving and supportive community that does just that! Marissa is an amazing trainer with a kind and patient heart who inspires me to keep pushing myself and to do things I didn't know my body could do! I've been able to do exercises I would never have tried on my own at the gym. It's hard work but also a lot of fun, so I'm excited to come back every session! I really feel like KRM is helping me to incorporate exercise and healthy habits into my lifestyle, rather than focusing on just short term gains. I love this gym and am happy to be a part of it!
Thank you Marissa for all u do!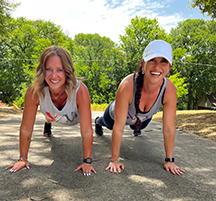 JULIE:
My goal working out at KRM was to gain the strength and energy to live the full life I have always wanted. I now have that life and there is nothing I cannot do! The trainers at KRM care deeply about their clients and work tirelessly to help clients reach their goals. More than just a gym, the trainers at KRM are passionate about helping women live their best lives. Jennifer has built a family of women getting stronger and healthier with each workout. She is a true friend and motivator.
PAIGE:
Kidsrockinmom has changed my life. I embarked on this health journey just to lose weight, but it became so much more. I've grown in my confidence. I've gained strength and friendships. It's so wonderful to be a part of community of women encouraging each other. I'm so thankful for Jennifer's guidance. This is a lifelong journey and I know that I will be able to live my healthiest now.
KRISTA:
I used to hate working out, but now I get excited about my workouts. I'm excited to see the changes in myself.
KYLIE:
Jennifer has helped me believe in myself and that I AM as strong as I have always wanted to be!
KRISTY:
Working out with Jennifer is no different than being her best friend for 30 plus years. She pushes me to be a better person. She's right there with me for the highs and the lows. She motivates and believes in me. She wants to see me succeed.
MIKAYLA:
Kidsrockinmom was the best thing that I have ever stumbled upon. Jennifer helped me lose 50+ pounds, pushed me to stay consistent with weekly workouts my entire pregnancy (yes, even up to 41.5 weeks), and has instilled the confidence and encouragement I have needed as I navigate postpartum health and motherhood. I will forever be grateful for the impact she's had on my life – inside and out of the gym.