KidsRockinMom has been passionate about giving back to the community since the very beginning. After all, community is what we are passionate about.
Adopt-a-Highway: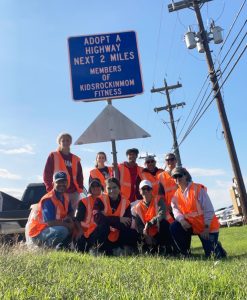 In 2022, KRM adopted a 2-mile segment of highway, located on SH304 and SH71 near our first gym location. At least four times per year, our clients and their families join together for a few hours on a Saturday to volunteer our time and efforts towards litter cleanup!
Last year, we collected over 50 bags of trash in our efforts to keep Texas roadways clean and beautiful!
Please join us for any of our next cleanups:
April 15th
August 19th
November 4th
Adopt-a-Teacher:
Our local teachers pour selflessly into our kids and they are truly making such an impact on our youth! Each fall school year, KRM has committed to adopting at least one teacher and their classroom.
Last year, we were able to bless (3) different teachers and classrooms, helping equip them with the tools and supplies they need!
Clothing & Food Drive:
Each winter season, KRM hosts a clothing and/or food drive for our community. Donations are made directly to the Bastrop County Food Panty or Christian's Closet – a program that allows for Bastrop ISD students in need to discretely browse for clothing items.
At any time, if you'd like to donate – please feel free to bring your items by the gym OR directly to any of the BISD middle or high schools.