The trees by my house are bare. The grass in the park is dry and brittle.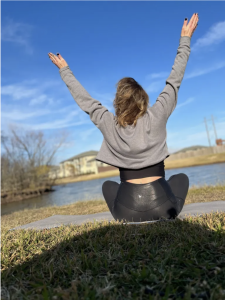 And that's kind of how life has felt lately – bitter and harsh, with all the growth from this past year under attack from the cold of winter. 🥶
👨‍👩‍👧‍👦 My family has been under attack lately.
🏠 My community has been under attack lately.
💪🏻 My KRM clients have been under attack lately.
Yet, here I find myself, with raised hands to heavens – thanking God for His faithfulness, His love, and His children…
God has brought so many new women into my KRM family over the past two years – and they are just that, family. We share our struggles and help carry each other's burdens. We encourage, support, and comfort each other. ❤️
And I consider THAT to be one of God's greatest blessings for my business.
In the past couple of weeks alone, our KRM family has dealt with sickness, sadness, loss, fires, and just complete chaos – but never once, did we have to face it alone.
So here I am, raising my hands in the midst of winter, praising God for growth, family, and friends.  🙌🏻