A year ago, almost to the date, Kidsrockinmom made this blog post announcing a new season ahead – one filled with uncertainty, heartache, joy, faith, and growth. And believe it or not, here we are again!
Almost one whole year since starting this season of new beginnings and Kidsrockinmom has grown so much! A full schedule of personal training clients, a gym remodel and expansion, community challenges, a growing social media, and virtual workouts that helped all our friends and family during this crazy year of quarantine. Best part? The blessings and growth keep coming. For that reason, Jennifer finds herself expanding more – this time, enlisting the help of her sweet niece Kamry.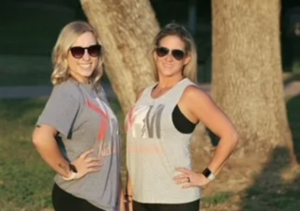 JENNIFER, TELL US ABOUT THE NEWEST KRM EMPLOYEE!
"Kamry's mother and I have been best friends since we were in middle school. So I've known Kamry all of her life. Her and my daughter are also best friends – well, more like sisters! In fact, Kamry is like a second daughter to me. I know and love her like my own.
In so many ways we are just alike. When Kamry recently decided to get her personal training certification, I could not have been more excited! Not only is it perfect for her, it's perfect for me. It does this AUNTIE's heart good that she has decided to choose fitness as her career. God's timing is never a second too late. I need the extra help and KRM might just need a mini-me, ha!. I know what a hard worker she is, how committed she is when she loves something, I see the passion she has for fitness and helping others, and KRM is lucky to have her as part of our FAMILY."
KAMRY, TELL US A LITTLE BIT ABOUT YOURSELF!
"I have always been into fitness. I started playing sports at a very young age and played throughout high school. I knew after sports were over that I still wanted to stay fit in some way. I started to do small workouts and running with one of my friends. When we started working out together, she was new to working out and I had to explain and show her how to do most of the exercises. This is when I started to realize that I enjoyed helping people with their fitness goals. My friend encouraged me to start looking into the personal training world. After working out with her for a few months, I knew that I wanted to become a personal trainer.
Seeing people grow their health and become stronger inspires me every day. My whole family is working on bettering themselves and that motivates me to help them and makes me want to help as many people as I can."
Welcome Kamry, we are happy you've joined us!
You've got this,
Mikayla,