#HotGirlSummer called and she's asking "Where you at?!"
Unless you live under a rock, you have surely heard of "Hot Girl Summer" making its rounds through every social media platform. Picture perfect bodies plastered all over your phone can have you clapping your hands and cheering on confident women one minute, then sobbing in your bathroom the next trying to pull up your swimsuit over your bloated belly.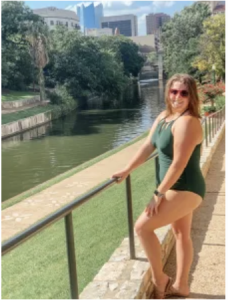 If you are anything like me, you've seen the trend all over your media feed this summer… and the comparison game sets in quick. Comparing your body, your journey, your life to those that come across your screen – some you know, most you don't. But here is the truth: looking at the world, you'll never be happy, sis.
Comparison is the thief of joy. Now I know it is easier said than done, but I challenge you to take a step back and spend some time in reflection of who you are and who you were made to be. Because your true self? She is the literally the hottest girl out there for #HotGirlSummer and here are 3 things she is all about:
SHE IS CONFIDENT IN HER OWN SKIN.
She is STRONG and her body does hard things. She doesn't hide from pictures or crops her body because she's insecure – she is PROUD of the body God gave her and all that it has accomplished, changing and adapting for every season she has walked through. And that confidence shines through her smile.
SHE DOESN'T MISS OUT ANYMORE.
Not on parties, vacation, social outings, or the next fashion trend. Her body is ready now. It is able. And being surround by her family and friends, enjoying their encouraging company and making memories is what she lives for. Her heart is on fire and there is NO stopping her. She ordered that two-piece from Shein. She signed up for that small-town 5k. She refuses to be held back by fear.
SHE SETS BOUNDARIES AND FOCUSES ON HERSELF.
Not just bubble baths and face masks, her self-care stretches further. She reads her bible, moves her body, goes to therapy, eats her greens, drinks her water, and naps hard. She says "no" to things and people that don't serve the season she is in. She accepts the fact she can't be everything for everybody.
So here is me telling you that #HotGirlSummer is for EVERY girl out there: Married. Single. Skin and bones. Chunky and funky. Pregnant. Bloated. Young. Old… WHOEVER you are, it is for you sister.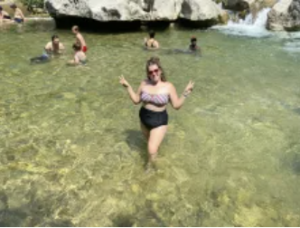 Confidence is for you.
Peace with yourself is for you.
Healthy boundaries are for you.
And if you ever need a reminder, come back to me. I will be the first one to encourage you to take this summer (or any season for that matter) to focus on you.
You've got this,
Mikayla