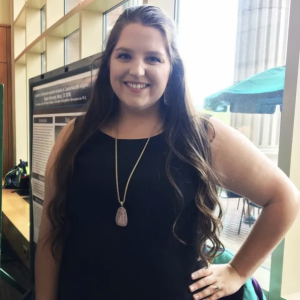 I've always had confidence in my curves, that was never the issue. In the most non-conceited way, I have always felt like a dang QUEEN. I didn't need a hype squad, because I was my own one-woman cheerleading team – and we screamed "Go Mikayla, you are amazing" 24/7/365!
While I know this isn't the case for most, it certainly was for me. I would like to thank my parents for this, but especially my mom – she grew up in a relationship with her body that was less than positive, and certainly wasn't full of love. So as I grew up analyzing my body (as most little girls do), I saw nothing but perfection, because that is what my mother instilled in my heart. She wanted a different mindset for me.
To wrap it all up on a modest note (haha!), between my parents and a GREAT God, I loved who I was at the core and accepted myself fully… in every season I walked through. I don't have an insecure bone in my body and I have always known my worth. Wether the scale read 240lbs or 140lbs, my heart screamed I AM WORTHY AND I LOVE MYSELF.
But as I have grown and matured, I learned to make the differentiation: I have always loved myself, I just haven't always loved myself well.
I put boundaries on who I should be, what I should achieve, what I should look like or eat, and what the desires of my heart should be. Restrictive, rigid boundaries – what kind of love is that?? On the flipside (in a different season of my life), I unapologetically said and did whatever I wanted, with whoever I wanted, anytime that I wanted – hurting a lot of people (and myself) in the path of my destruction.
So, I finally landed on the perfect act of self-love: I let God's grace come in and heal the scars and brokenness within me. And HE taught me how to love myself well. I live by this quote I heard once (and for the life of me, I can't remember who said it): "Hurt people hurt people. Healed people heal people." Even though I loved myself fully, the scars and pain from this world was causing me to hurt myself and others. But when I allowed God to come in and heal me, I began healing myself and my relationships – taking His love to a whole new level.
Embarking on a fitness and health journey wasn't because I hated myself, it was in fact, because I learned to love myself in a healthier way. If you are looking for weight loss to give you the self-love you've been craving, you'll be disappointed. Only time and God's grace, forgiveness and love can give you that my friend. Good news is, you are never alone – we are in this together. So jump on this radical bandwagon of self-love – it is more beautiful than you could ever imagine. And if you are looking to jumpstart your health as part of that self-love journey, I hope you consider KRM – we are broken too, so let's heal together.
You've got this,
Mikayla